Boiler Upgrade Scheme
One of the key ways that the UK can help combat climate change is by reducing the carbon emissions from heating our homes and workplaces, which accounts for almost a quarter of total UK emissions.
To help homeowners switch to low carbon heating, the government launched the new Boiler Upgrade Scheme (BUS) on 1st April 2022. The scheme has funding for three years and a total budget of £450m.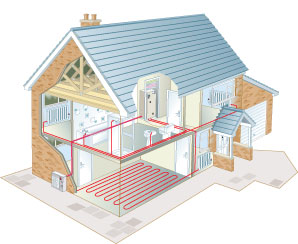 Low carbon heating systems such as air source heat pumps (ASHPs) could qualify for a £5,000.00 grant towards the cost of replacing traditional fossil fuelled boilers [oil, gas, or LPG].
Aspen Renewables is MCS registered as required for operating the BUS and has been installing ASHP systems for over 10 years with many hundreds of successful installations. As an experienced MCS installer of ASHP technology, Aspen Renewables Ltd undertake the full MCS design process to ensure that the system meets the property's heating and hot water needs.
The BUS grant application is processed by Aspen Renewables Ltd on behalf of the homeowner, and subject to the property meeting the required levels of insulation and confirmation by the homeowner that they are happy to proceed, the £5,000.00 is discounted from the quoted price.
To qualify for the Boiler Upgrade Scheme (BUS) the property must have a valid EPC – see www.gov.uk/find-energy-certificate to check.
The EPC must not be over 10 years old and must not have any outstanding recommendations for Cavity wall insulation (if applicable), loft insulation or double-glazed windows. If the current EPC shows these recommendations and is unable to gain certification for listed building exemption, conservation area exemption, or structural exemption, then the required thermal improvements must be undertaken, and a new EPC produced showing these recommendations have been completed to qualify for the scheme.
These basic thermal improvements will ensure that your property's heat losses are minimised and should also reduce the heating requirements.
The ASHP system must completely replace the fossil fuelled boiler system, so hybrid applications will not qualify for the £5,000.00 grant
New build homes will not qualify, unless classified a 'custom build' ie self-build. Social housing will not qualify.
For more information about the Boiler Upgrade Scheme and how Aspen Renewables can help with the application process please use the information or links below.
Tel: 01323 849955
Email: [email protected]
GOV.UK: Boiler Scheme Upgrade leaflet