Air Source Heat Pumps
Air Source Heat Pumps are one of the most advanced renewable energy, efficient heating systems available today, and are a genuine alternative or replacement for a gas or oil fired boilers. The main benefits of Heat Pumps are reduced running costs, lower maintenance and reduced emissions.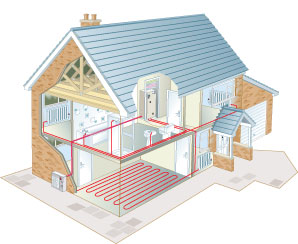 With conventional boilers, for every 1kWh of gas energy the boiler uses, it provides less than 1kWh of heat energy. With an ASHP for every 1kWh of electrical energy used by the system, it produces on average 3.6kWh of heat energy, making it more than three times as efficient as a conventional boiler . Air source heat pumps are a natural choice for low carbon heating and hot water systems.
The heat pump unit is placed outside and is connected straight into the heating system and hot water cylinder. The heat pump then converts the naturally occurring energy from the air and uses this to provide domestic space heating and hot water.
Heat pumps can be used in many applications, either new builds with Underfloor heating or retro fitted to a modified radiator system.
Air Source Heat Pumps Installation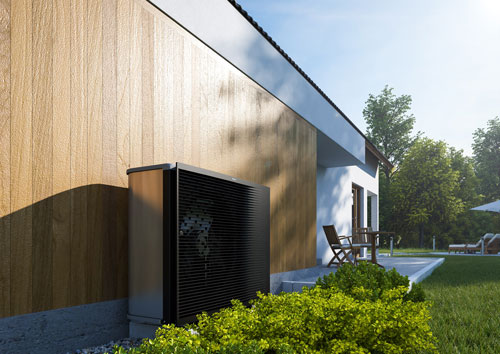 For a quite mature technology, heat Pumps hold a very small market share in relation to other household heating technologies. In Scandinavia, heat pumps can be found in around 350 per 10,000 households, which is 50 times the penetration level in the UK.
To find out more, please click here.
CALL NOW FOR A FREE SITE SURVEY 01323 849955.